Blogs > Intentional Insights > Remote and Hybrid Diversity, Equity, and Inclusion
Dec 2, 2022
Remote and Hybrid Diversity, Equity, and Inclusion
tags:
leadership
,
decision making
,
wise decision making
,
leadership development
,
cognitive bias
,
decision-making process
,
leaders
,
fully remote
,
hybrid diversity
,
equity
,
inclusion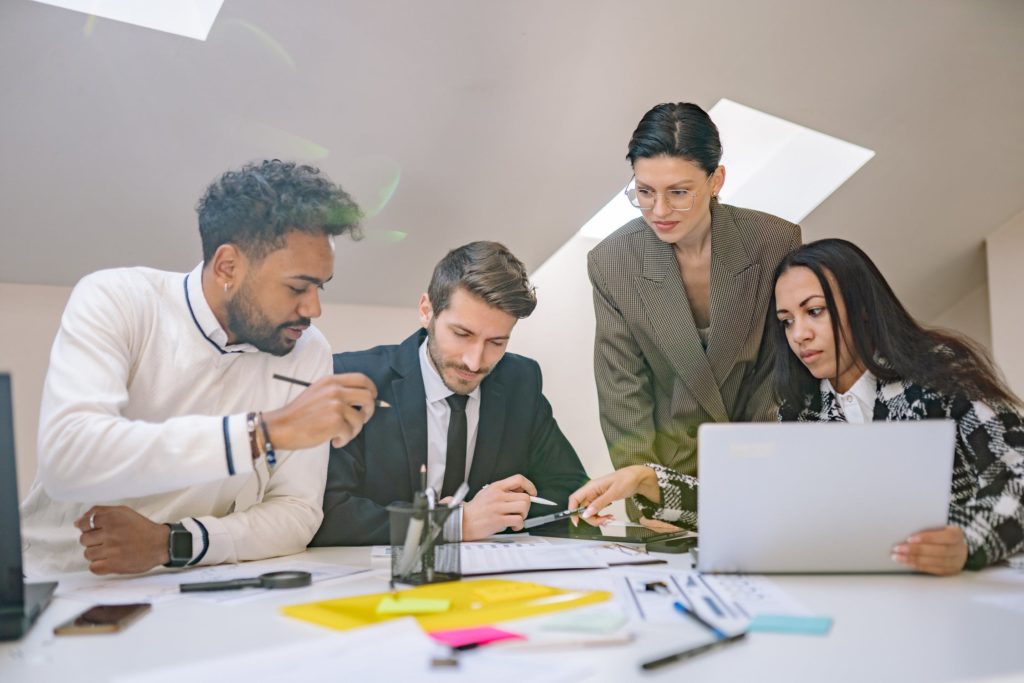 Have you wondered how to foster remote and hybrid diversity, equity, and inclusion (DE&I) in the workplace? Many companies have approached me for consultation regarding the development and implementation of their strategy for returning to the office and establishing permanent work arrangements for the future of work. In my interviews with dozens of mid-level, and senior leaders at many of these organizations, I found that the issue of diversity and inclusion came up time and time again.
If you enjoy video, here's a videocast based on this blog:
And if you like audio, here's a podcast based on the blog:
Or simply read onward!
Indeed, diversity, equity, and inclusion are significant concerns for many organizations in the aftermath of the global pandemic. The pandemic has brought about new concerns over proximity bias as it has divided the employees into two categories: office-centric and mostly or fully remote. So what can you do to address DEI effectively in our brave new world?
Challenges to Achieving Remote and Hybrid Diversity
Michael, the CEO of a mid-size B2B tech service provider, was struggling with DEI issues even before the pandemic. He wanted to make his company more attractive to minority groups.
The company hired a very diverse pool of workers at the rank-and-file level, but it had trouble retaining them. Thus, the higher up in the organization you looked, the less diversity you saw.
The company tried to address these issues previously, and had some moderate success. However, the pandemic completely derailed these efforts. As Michael's company figured out its footing a year into the pandemic, it could now turn its attention back to the previous DEI priorities. Of course, their needs changed, as did everything during the pandemic. Thus, Michael brought me on as an expert in the intersection of hybrid and remote work with DEI to help address their challenges.
First, I trained Michael's leadership team on addressing cognitive biases. These mental blindspots often undermine both DEI and effective hybrid and remote work. Fortunately, recent research has shown effective and pragmatic strategies to defeat these dangerous judgment errors.
Inclusion and diversity initiatives rely on everyone being treated fairly and given equal opportunities for advancement based on their personal worth, such as their skill sets and performance, rather than uncontrollable factors like gender or race/ethnicity. However, cognitive biases often prevent people from achieving this goal effectively because they cause them to view things differently than they actually are.
As a frequent trainer on diversity and inclusion to address potential unconscious discriminatory behavior, I have regularly observed that unconscious bias in recruitment is quite common. This bias can lead recruiters to make decisions that are inconsistent with the best practices of diversity, equity, and inclusion in the workplace.
For example, if an HR manager is looking for a new hire in an organization and believes that "women are better at tasks requiring emotional intelligence," he may unknowingly favor female candidates for this role over male candidates.
The availability heuristic is one of many reasons women and people of color have marginal representation in remote working environments. In this cognitive bias, people judge based on what comes most easily to mind, even if those memories are not representative of reality.
For example, suppose someone has a negative experience with a person of a certain ethnicity. In that case, all people of that ethnic group might be seen as bad or untrustworthy because of this experience. This can cause someone to act differently toward a person than they would if they did not have this bias, which can also cause problems for diversity and inclusion efforts in the workplace.
The availability heuristic is an example of how people use their personal experiences as the basis for their decisions, whereas confirmation bias is how people make up their minds about what they think happened based on previous experiences.
As far as diversity, equity, and inclusion in the workplace are concerned, confirmation bias can be especially problematic because it can prevent people from realizing that issues of diversity and inclusion are not limited to just one group or type of person.
For example, if an employer believes that women are the only ones receiving lower pay than men, they may fail to address issues relating to racial discrimination in hiring practices (which may also lead to paying discrepancies) because they do not see these issues as related—even though they actually are.
Another cognitive bias that can lead us to make poor choices or decisions is in-group bias. This occurs when people favor others with similar backgrounds or interests. It is a common problem in the workplace because people tend to hire people who are like them.
For example, if someone hires another person who attended their alma mater or shares their religion, they may be more apt to give them preferential treatment over a candidate from another university or religion. This could lead to unfair hiring practices and result in a less diverse workforce.
These errors render leaders unable to resist following their gut or personal preferences instead of relying on best practices to implement policies, procedures, activities, and principles to ensure diversity and inclusion in the workplace.
Minority Concerns Regarding Hybrid and Remote Work
Do you think minority groups, such as African Americans, want more or less time in the office compared to white people? Take a few seconds to come up with a guess.
Here is the answer. Slack conducted a survey on this topic among knowledge workers - those who did their work based on their expertise - and divided it by demographics.
They found that 21% of all White knowledge workers wanted a return to full-time in-office work. What would be your guess as to how many Black knowledge workers wanted a return to full-time in-office work?
The answer: only 3% of all Black knowledge workers would want to return to full-time work in the office. That's a huge difference!
What explains this enormous disparity? Well, unfortunately, Black professionals are still subject to discrimination and microaggressions in the office. They are less vulnerable to such issues when they work remotely much or all of the time.
In addition, Black professionals have to expend more effort to fit into the dominant cultural modality in the workplace, which is determined by traditional White culture. They have to do what is called code-switching: adjusting their style of speech, appearance, and behavior. That code-switching takes energy that could be spent better doing actual productive work.
Similar findings apply to other underprivileged groups. That includes not only ethnic and racial minorities but also women.
Women still bear more of the childcare and household burden and are much more likely to want substantial or full-time remote work. For instance, a Conference Board survey found that 33% of men question the wisdom of returning to the office. However, for women, the comparable number is 50%.
Of course, other minority groups, such as physically disabled people, strongly prefer full-time remote work as well. That means a hybrid-first model that has most people coming in a day or two per week and offers full-time remote work for a substantial minority, will help maximize your diversity, equity, and inclusion efforts.
Practices to Promote Remote and Hybrid Diversity and Inclusion
It is important to know what it takes to achieve inclusivity and diversity and spot potential roadblocks that could hurt the efforts of an organization. The following are the most effective best practices for promoting diversity and inclusion inside an organization as it develops an effective approach to hybrid and remote collaboration.
Addressing Communication Issues
Inclusion is meant to ensure that everyone feels like their work matters. To begin with, you must address discrimination in the remote workplace, whether for hybrid or fully-remote teams.
Research has shown minorities deal with bullying on video calls and harassment via chat and email, as well as other online settings. Another problem relates to who gets to speak and who gets interrupted. Surveys demonstrate that men frequently interrupt or ignore women in virtual meetings, even more so than at in-person ones.
So when bullying and interruptions happen in virtual meetings, take the time to address why it is happening. You can say something like, "Please let them complete their point before asking questions. Use the raised hand function so that we can come back to your suggestion afterward. "
Setting up a Hybrid Monitoring Program
To help increase equality within your team, create a formal hybrid and remote mentoring program. This setup is especially important for women and other underrepresented minority groups in the higher ranks of organizations.
Research shows that one of the primary reasons such groups fail to advance stems from the lack of informal mentoring and sponsorship. Given the increased challenges for mentoring hybrid and remote employees, your mentoring program must benefit minority groups. Doing so requires ensuring accountability by requiring reports from mentors and mentees on their progress.
Virtual Training
Another great tool is training that focuses on dissuading discrimination during virtual meetings, chats, and emails. This will help your team build skills in avoiding such problems and especially help minorities feel supported as you build a more collaborative atmosphere.
By acknowledging these problems, you can create policies to address these occurrences and regularly check in with your team as you build a collaborative atmosphere.
Conducting Internal Surveys
Creating a diverse, inclusive, and equitable office culture requires recognizing these problems and taking action to remedy them. An easy way to start advocating is to conduct internal surveys to determine those issues.
The best surveys will ask your minority staff about their experiences with the problems outlined above and other diversity-related challenges. Also, ask them what they believe might be the most effective ways of solving these problems. Integrate the best solutions they propose into your plans to address the situation.
You have probably heard the famous phrase, "what gets measured gets managed." Once you know the nature and extent of the problems, you can work to change them systematically, rather than only in one-off, ad-hoc situations. Measure the problem, create a plan to fix it, then measure how well you are improving it.
According to Forbes, employees who feel their voice is being heard are 4.6 times more likely to feel empowered to perform their best work. When you value the diverse backgrounds and perspectives of your staff, you will gain their loyalty and can be assured that they know you are invested in their professional experience.
Implementing a Diverse and Inclusive Culture in the Workplace
I advised Michael to follow these best practices to create a workplace that works for everyone. The firm conducted an internal poll to evaluate the hurdles to diversity and inclusion, based on my advice. The survey questioned the employees about how comfortable they felt in their workplace, whether they felt their contributions were valued, or if they had experienced any discrimination at work.
The survey results helped the company figure out where it needed to make changes to ensure its workplace was open to everyone. It found that many minority employees felt they did not have a voice at work due to interruptions and microaggressions at meetings. It also found that the lack of diversity among higher-level leaders discouraged minorities from trying to advance and made it hard for them to approach leaders for sponsorship.
Michael's company implemented policies to address these issues. That included training in effective remote and hybrid communication and collaboration, with a focus on addressing the concerns of minorities. It also included setting up a hybrid and remote mentoring program to help minority groups. He also started several employee resource groups focused on providing support for employees from underrepresented backgrounds. Finally, the company held monthly "diversity talks" focused on diversity and inclusion to ensure that people from all backgrounds feel valued and heard.
Six months after instituting these changes, Michael had great news to share. The company has seen significant improvements in employee satisfaction ratings from minority employees. The number of minority employees who felt their manager is fair and respectful increased from 63% to 87%, the number who felt included in decisions at work went from 48% to 79%, and those who felt respected by coworkers and believe their ideas are valued by management grew from 54% to 82%.
He said that it had been a long process, but it was well worth it. He added, "We have reached a point where our minority employees feel like they are part of something bigger than themselves."
Conclusion
The lack of diversity, equity, and inclusion is a serious problem for any forward-looking company. To maintain a competitive edge, companies need the best people available to work in a diverse, inclusive environment. With the emerging trend of hybrid and remote work arrangements, people from underprivileged groups can overcome many of the barriers they face in a traditional workplace that have prevented them from being successful in their careers. In order to create an inclusive diversity strategy, leaders must address communication and sponsorship issues within their organization by setting up mentoring programs and virtual training.
Key Takeaway
To achieve the promise of remote and hybrid diversity, equity, and inclusion, leaders need to address microaggressions in communication and the lack of sponsorship for minorities through training and mentoring programs...>Click to tweet
Image credits: Yan Krukov
Originally Published at Disaster Avoidance Experts on August 2, 2022.
---
Bio: Dr. Gleb Tsipursky helps tech and insurance executives drive collaboration, innovation, and retention in hybrid work. He serves as the CEO of the boutique future-of-work consultancy Disaster Avoidance Experts, which helps organizations adopt a hybrid-first culture, instead of incrementally improving on the traditional office-centric culture. A best-selling author of 7 books, he is especially well-known for his global best-sellers Never Go With Your Gut: How Pioneering Leaders Make the Best Decisions and Avoid Business Disasters (Career Press, 2019) and The Blindspots Between Us: How to Overcome Unconscious Cognitive Bias and Build Better Relationships (New Harbinger, 2020). His newest book is Leading Hybrid and Remote Teams: A Manual on Benchmarking to Best Practices for Competitive Advantage (Intentional Insights, 2021). His writing was translated into Chinese, Korean, German, Russian, Polish, Spanish, French, and other languages. His cutting-edge thought leadership was featured in over 650 articles and 550 interviews in prominent venues. They include Harvard Business Review, Fortune, Inc. Magazine, CBS News, Time, Business Insider, Government Executive, The Chronicle of Philanthropy, Fast Company, USA Today, and elsewhere. His expertise comes from over 20 years of consulting, coaching, and speaking and training for mid-size and large organizations ranging from Aflac to Xerox. It also comes from his research background as a cognitive scientist. After spending 8 years getting a PhD and lecturing at the University of North Carolina at Chapel Hill, he served for 7 years as a professor at the Ohio State University's Decision Sciences Collaborative and History Department. He lives in Columbus, Ohio (Go Bucks!) and in his free time, he makes sure to spend abundant quality time with his wife to avoid his personal life turning into a disaster. Contact him at Gleb[at]DisasterAvoidanceExperts[dot]com, follow him on LinkedIn @dr-gleb-tsipursky, Twitter @gleb_tsipursky, Instagram @dr_gleb_tsipursky, Facebook @DrGlebTsipursky, Medium @dr_gleb_tsipursky, YouTube, and RSS, and get a free copy of the Assessment on Dangerous Judgment Errors in the Workplace by signing up for the free Wise Decision Maker Course at https://disasteravoidanceexperts.com/newsletter/
---
comments powered by

Disqus