Blogs > Intentional Insights > Say Hello to the CHO (Video & Podcast)
Jun 13, 2022
Say Hello to the CHO (Video & Podcast)
tags:
leadership
,
video
,
decision making
,
wise decision making
,
leadership development
,
decision-making process
,
leaders
,
CHO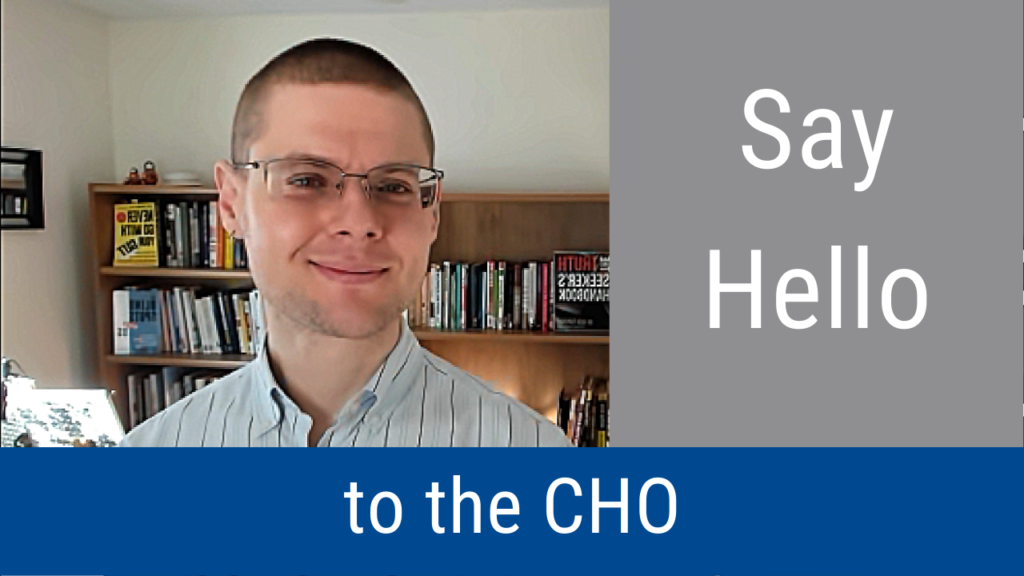 The pandemic has taken a toll on employees' mental and physical health, so many organizations have started hiring a Chief Health Officer to oversee the prioritization of health in all policies. That's the key take-away message of this episode of the Wise Decision Maker Show, which describes the new role of a CHO.
Video: "Say Hello to the CHO"
Podcast: "Say Hello to the CHO"
Links Mentioned in Videocast and Podcast
Transcript
Hello, everyone, and welcome to another episode of the wise decision maker show where we help you make the wisest and most profitable decisions. Today I want to share with you about a new role in the C suite of many companies that she'll help us see HR say hello to the CHF, the pandemic showed the C suite of leadership of companies, the real need for someone to focus on employee health has been really under emphasized before the pandemic, it has not had someone at the talk was really focused specifically on health related issues. But really, if you think about even before the pandemic, employee health, mental and physical health was crucial for patient productivity, you also want to control health care costs. That's really important. And there are a number of health and mental health challenges physical health and mental health challenges that are already increasing before the pandemic, whether things like obesity, or things that anxiety and depression add to the pandemic that made things much, much more. So organizations even before the pandemic started identifying shortcomings in health care initiatives, they realized that simply a few programs, employee wellness programs, those sort of wellness programs, yoga, and so on patient care important, but they just don't, you should really have that one type of executive was going to be focusing on physical and mental health, keeping employees safe, but it's even before the pandemic, but especially in the context of pandemic, and with other problems going forward. And at the same time focusing on maintaining productivity and morale. from a health perspective, that is the Chief Health Officer. That doesn't mean that we are better at making sure that health priorities for that organization go forward effectively and are truly represented at the top level of the system. So they're in charge of overseeing physical and mental health, and addressing various pandemic related challenges. And again, there were some of these before the pandemic. Alright, so for example, the University of Michigan hired a Chief Health Officer in 2017. Public Health, Google had won in 2019. So before the pandemic, of course, most companies really caught on to this trend during the pandemic, Delta Airlines good year and many others. Executive firms notice this new search pattern. And type in finance firms are especially prevalent in serving, searching for chief officers, and so many factoring firms. And you see communities have chosen officers to establish various venues, including top levels like the World Economic Forum. Now, what does the tho do? They focus on health. Those are the chief medical officer, you might have heard of them being referred to as the Wage Officer Chief Health Officer, they focus on both focus and help us ensure and provide the basis for productivity, employee engagement, employee retention, recruitment, of course, and managing risks relating to physical and mental health. And of course, with a pandemic, and thinking about what's going on in the post pandemic company. What is the safe return to office life and the future of work pretty well for now, but ch Mo is someone who reports to the CEO, just like other members of the C suite, and works with other senior executives with their domains to make sure that their domain's health is managed well. So they develop and implement priorities for overall health, remote in office work guidelines, both of those hybrid work and mental wellbeing, making sure to avoid burnout, which has been a serious issue during the pandemic, of course. Now what's going on on the stage shows how the stage shows routes evolve. As we go forward, the post pandemic recovery will continue to shift. They need to have a more encompassing position, one that focuses not simply on basic health policies, but really supporting employee retention and engagement, the productivity more than they have been before. So it started off more without that you really want to focus more on retention, productivity, engagement, and of course, the cost of care call. So what are they going to be doing? They're going to be focusing on building increasingly resilient work for various pain points, arguing them, stress work, life imbalances, mental well being, physical well being, all of these sorts of things. I mean, how many billions of dollars our company is losing because for employees 10 days for employees are getting physically and mentally sick, because they're not sufficiently taking the steps to take care of themselves. They don't know how or if they're not supported by their doctors' insurance plan. So that's what the show they're doing. Especially importantly, I think I want to highlight that attention and say show that thing to mental health. And so the fourth in collaboration with HR. So, the show is the role that collaborate bathroom HR, actually, and the mental health problems problems are related to issues of diversity such as racism, such as gender discrimination, which are really harmful and really lead to competitive advantage being lost retention, recruitment around productivity forbidden. So that is what each show is doing. And that is the new role that I wanted to make sure that you're aware of as we go for the post put down by everyone. I hope you enjoyed it and benefited from this episode of the wise official maker show. Please subscribe and make sure to follow us on your favorite venues whether it's apple, iTunes, whether Amazon podcast or URL. We also have a video camera. If you check that out on YouTube, make sure to follow us there. Please share your thoughts with me by emailing me at the level of disaster avoidance expert but supposed to be the head of disaster avoidance expert. My name is Gleb and my email is Gleb at disaster avoidance expert dot com Alright everyone. I hope he shows up for difference if you liked it, and in the meantime, until the next time, we see each other the wisest and most profitable decisions
Transcribed by https://otter.ai
Originally Published at Disaster Avoidance Experts on March 1, 2022.
---

Bio: Dr. Gleb Tsipursky is a world-renowned thought leader in future-proofing, decision making, and cognitive bias risk management in the future of work. He serves as the CEO of the boutique future-proofing consultancy Disaster Avoidance Experts, which specializes in helping forward-looking leaders avoid dangerous threats and missed opportunities. A best-selling author, he wrote Never Go With Your Gut: How Pioneering Leaders Make the Best Decisions and Avoid Business Disasters (Career Press, 2019), The Blindspots Between Us: How to Overcome Unconscious Cognitive Bias and Build Better Relationships (New Harbinger, 2020), and Returning to the Office and Leading Hybrid and Remote Teams: A Manual on Benchmarking to Best Practices for Competitive Advantage (Intentional Insights, 2021). His writing was translated into Chinese, Korean, German, Russian, Polish, French, and other languages. He was featured in over 550 articles and 450 interviews in prominent venues. These include Harvard Business Review, Fortune, USA Today, Inc. Magazine, CBS News, Business Insider, Government Executive, The Chronicle of Philanthropy, Time, Fast Company, and elsewhere. His expertise comes from over 20 years of consulting, coaching, and speaking and training for mid-size and large organizations ranging from Aflac to Xerox. It also comes from over 15 years in academia as a behavioral scientist, including 7 as a professor at Ohio State University. You can contact him at Gleb[at]DisasterAvoidanceExperts[dot]com, LinkedIn, Twitter @gleb_tsipursky, Instagram @dr_gleb_tsipursky, Medium @dr_gleb_tsipursky, and gain free access to his "Assessment on Dangerous Judgment Errors in the Workplace'' and his "Wise Decision Maker Course" with 8 video-based modules at https://disasteravoidanceexperts.com/subscribe/.
---
comments powered by

Disqus