Blogs > Intentional Insights > Remote and Hybrid Diversity, Equity, and Inclusion (Video & Podcast)
Jan 23, 2023
Remote and Hybrid Diversity, Equity, and Inclusion (Video & Podcast)
tags:
leadership
,
decision making
,
wise decision making
,
leadership development
,
cognitive bias
,
decision-making process
,
leaders
,
work from home
,
hybrid work
,
remote work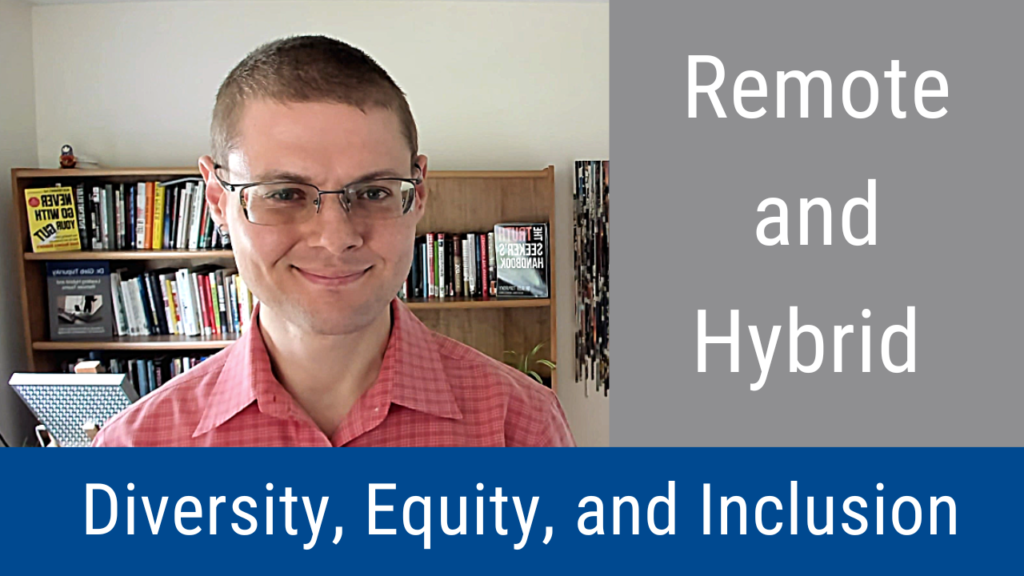 In order to achieve the promise of remote and hybrid diversity, equity, and inclusion, leaders need to address microaggressions in communication and the lack of sponsorship for minorities through training and mentoring programs. That's the key take-away message of this episode of the Wise Decision Maker Show, which describes how to address diversity, equity, and inclusion in hybrid and remote teams.
Video: "Remote and Hybrid Diversity, Equity, and Inclusion"
Podcast: "Remote and Hybrid Diversity, Equity, and Inclusion"
Links Mentioned in Videocast and Podcast

Transcript
Hello, everyone, and welcome to another episode of the Wise Decision Maker Show, where we help you make the wisest and most profitable decisions. I'm Dr. Gleb Tsipursky, the CEO of Disaster Avoidance Experts, and the host of the Wise Decision Maker Show. And today we'll talk about remote and hybrid diversity, equity and inclusion. How do we pursue DEI effectively in hybrid settings in remote settings, as we're focusing on the future of work, which is undoubtedly going to be hybrid, it's not going to be simply office centric. Now, what we need to realize when we're thinking about DEI in the future of work is that there are lots of concerns about minorities, by minorities about in office work much more than by mainstream folks by white males. Now, that's why it's crucial to realize that the return to the office is a DEI issue. So when you're thinking about returning to the office, who's going to work in the office who's not? This is a DEI issue. And that's serious to think about. There's a future forum survey, which they do surveys every quarter. So it's an extensive survey of 1000s of people done every quarter. So it's a longitudinal survey. And you can see changing results quarter to quarter, which is very helpful, because they asked the same questions, some survey they did, that showed that white workers wanted to return to the office. So it's asking if you want to return to the office and have an office centric schedule. A typical office centric schedule Monday through Friday, nine to five, has white knowledge workers, so knowledge workers, experts of various sorts, people who couldn't do all their work remotely, that's 21%. So 21% of them want to return to the office full time, that means 79% don't want to return to the office full time. So we clearly see that the future is hybrid, remote, whatever you want to call it. And that's important to realize in terms of white knowledge workers. Now what about black knowledge workers? What about African Americans? How do they feel about returning to the office full time? So we have 21%? For white knowledge workers, what would you think would be black college workers? So take a second think of your answer? All right, the real answer is 3%. So black workers, only 3% want to return to the office full time. That's very surprising, you might be surprised, it's seven times less than the white knowledge workers. So the white knowledge workers 21% One to return to the office full time blog knowledge workers 3%. Now, that's because the barriers, the kinds of problems, challenges that African Americans face in the office, people of color face in the office, they still face discrimination. So there's systematic discrimination. We know from statistics from research, that black people face systematic discrimination in the workplace, unfortunately, there is this there is systematic racism, there is systematic bias against black people, and other minorities. So one is systematic discrimination. Another is microaggressions. Just everyday microaggressions black women being asked may touch her hair, and all of these sorts of things, comments, I was reading an article in the by one of these lack knowledge workers who said that the one they're hanging out with their white knowledge workers, and there's a police car coming by, they heard more than once one of their white knowledge workers joke that they're coming for him. And obviously, that's a pretty terrible thing to say, it's a microaggression. Others laughed. It's a joke. But the black knowledge worker feels very bad when that's said. And the white knowledge worker does not intend for the white black knowledge worker to feel bad. But that's just what happens. And these are just examples, everyday examples. And there's so many other microaggressions experienced by black knowledge workers, which causes them to not want to go to the office, which causes them to want to spend most or all of their work doing remotely. And there's clear desire among other groups. So women definitely want more remote work than men. People with disabilities want more remote work than men, other minorities of various sorts. Employees of color, and other minorities feel safer and happier working remotely. They are less vulnerable to racism, and they're free from the tyranny from the challenges of code switching in the workplace. Now what's called switching. That's when you adjust your style of speech, appearance and behavior to fit mainstream norms. And that applies less to women, to some extent, but mainly to minorities, people of color, African Americans, Hispanics, LGBTQ, who have to adjust their authentic style to fit to white mainstream male workplace norms. So that's a problem. That's a constant weight and drain. And people who are minorities, and who have to do this code switching feel much better working remotely because they have to do much less code switching. That's better. How do you address these problems? So you want to promote DEI by addressing communication issues. So virtual work, remote work, the time we spend working remotely depends on our communication, to collaborate effectively, to innovate effectively, to just do our work productively. There are a number of challenges that minorities face in virtual meetings. So the challenges that they face when doing remote work in a collaborative sense with their coworkers, and that's bullying. So we still see that, unfortunately, in virtual meetings, minorities do get bullied, and there's harassment that still happens. We might be surprised, but it definitely happens. And especially women face a lot of mansplaining and interruptions. What's that? Well, mansplaining is when men try to explain something to women in a condescending way. Even though women might know the issue very well. And interruptions are kind of obvious when men tend to interrupt women. So you want to address these problems enforce appropriate etiquette, which will be especially helpful for everyone, but especially people who are in the eye roll minorities to handle these interruptions, bullying, harassment issues, let all attendees finish their thoughts and then force this meeting advocate, stop people from talking over each other and say that that's not acceptable. And use the raise hand function for q&a sessions or other features of zoom, Microsoft Teams, whatever you happen to be using. And another thing that you want to be thinking about, create a remote hybrid mentoring program, we know that minorities are really challenged in getting up through the ranks of the leadership team to the leadership team getting promoted, because they get less sponsorship from people up above and informal mentoring from their peers and from people above. So you want to set up formal mentoring programs in remote settings and hybrid settings that are specifically targeted toward minorities. And so you want to take steps to reduce the barriers minorities face to going up the chain of command. So create that mentoring program and track the program, make sure there's accountability and mentoring is happening, and sponsorship is happening. So you want to do things like serving mentee satisfaction, and the progress of mentees up the promotion ladder. Next, do internal surveys. This is crucial and really not done nearly enough focusing on DEI issues and getting minorities to talk and share about what's done. Whether you want to do some focus groups, but especially anonymous surveys are incredibly useful. So ask members of minorities about what are their challenges in getting promoted? What is their experience getting mentorship sponsorships above those? Again, those are different things. Mentoring is advice, sponsorship is support going up the chain of command? How do they experience to the extent that they experience discrimination and microaggressions? You want to make sure to capture that? And what do they feel about organizational support for DEI issues? Do they feel supported? Do they feel that the organization has their back. Next, you want to implement this all together, or they've very diverse and inclusive culture in your workplace implementing that culture. So once you know the nature and extent of the problem from doing the surveys, you can create a thorough strategic plan to fix it. So integrate all the solutions we discussed here. So far, like the hybrid mentoring program, addressing mansplaining, giving more remote and hybrid work to minorities is getting a benign minority sponsorship, getting surveys and addressing the issues found by the surveys. So those solutions and measure improvement over time. So keep doing those surveys, and some focus groups perhaps and see how they change over time. And you might want to also set up employee resource groups if you haven't done so yet many companies have already done so. Employee Resource Groups have a number of similar names. These are groups for various minorities to come together around issues that are supported that are important to them. What's the benefit? Why do you want to do this? Well, there's no question that research shows you'll get better minority retention, recruitment, morale, engagement, productivity, collaboration and innovation, where minorities will feel a sense of belonging and they will feel that they have been respected by their managers and by their co-workers that are included in decision making by the management. Their ideas are actually valued and have devalued and that they can be themselves and behave authentically, rather than call switching and having this additional burden, which they don't need to have. So that is how I promote remote and hybrid diversity equity inclusion. I hope you've benefited from this episode of the wise decision maker show. Please leave us a review. It's very helpful because it helps other people discover this show on Amazon, Apple iTunes, or wherever you checked out this podcast. We also have a videocast version. If you check out the podcast we have a podcast version and all that information is going to be in the show notes and send me an email with your thoughts on the show. My email is gleb at disaster avoidance experts dot com. I look forward to hearing from you and I read every email. Alright everyone. I will look forward to seeing you on the next episode of the wise decision maker show. In the meantime, the wisest most profitable decisions to you my friends
Transcribed by https://otter.ai
Originally Published at Disaster Avoidance Experts on August 30, 2022.
---
Bio: Dr. Gleb Tsipursky helps tech and finance industry executives drive collaboration, innovation, and retention in hybrid work. He serves as the CEO of the boutique future-of-work consultancy Disaster Avoidance Experts, which helps organizations adopt a hybrid-first culture, instead of incrementally improving on the traditional office-centric culture. A best-selling author of 7 books, he is especially well-known for his global best-sellers Never Go With Your Gut: How Pioneering Leaders Make the Best Decisions and Avoid Business Disasters (Career Press, 2019) and The Blindspots Between Us: How to Overcome Unconscious Cognitive Bias and Build Better Relationships (New Harbinger, 2020). His newest book is Leading Hybrid and Remote Teams: A Manual on Benchmarking to Best Practices for Competitive Advantage (Intentional Insights, 2021). His writing was translated into Chinese, Korean, German, Russian, Polish, Spanish, French, and other languages. His cutting-edge thought leadership was featured in over 650 articles and 550 interviews in prominent venues. They include Harvard Business Review, Fortune, Inc. Magazine, CBS News, Time, Business Insider, Government Executive, The Chronicle of Philanthropy, Fast Company, USA Today, and elsewhere. His expertise comes from over 20 years of consulting, coaching, and speaking and training for mid-size and large organizations ranging from Aflac to Xerox. It also comes from his research background as a cognitive scientist. After spending 8 years getting a PhD and lecturing at the University of North Carolina at Chapel Hill, he served for 7 years as a professor at the Ohio State University's Decision Sciences Collaborative and History Department. He lives in Columbus, Ohio (Go Bucks!) and in his free time, he makes sure to spend abundant quality time with his wife to avoid his personal life turning into a disaster. Contact him at Gleb[at]DisasterAvoidanceExperts[dot]com, follow him on LinkedIn @dr-gleb-tsipursky, Twitter @gleb_tsipursky, Instagram @dr_gleb_tsipursky, Facebook @DrGlebTsipursky, Medium @dr_gleb_tsipursky, YouTube, and RSS, and get a free copy of the Assessment on Dangerous Judgment Errors in the Workplace by signing up for the free Wise Decision Maker Course at https://disasteravoidanceexperts.com/newsletter/.
---
comments powered by

Disqus